By Br. Jorem Yap
"…there is no problem, no matter how difficult it is…in the personal life of each one of us, of our families … that cannot be solved by the Rosary."
– Sr. Lucia, Fatima seer
When you see Vincent Niel Bacud, nothing about him is immediately striking. 
It's not immediately obvious that he has gone through so much. So imagine my shock when once while he was busy making a rosary, he said, "Alam n'yo po ako iyong naglinis ng dugo ng tatay ko (You know what, I was the one who cleaned up my father's blood)." Vincent's father is one of the thousands of victims of the Duterte administration's war on drugs. 
The rosary, the best therapy
Shocked by such a confession, I had no quick words to comfort him. But just as easily,  Vincent smiled and thanked me for teaching him how to make rosaries as part of the Arnold Janssen Kalinga Foundation (AJFKI)'s Project Maria, a rosary-making livelihood project for the formerly homeless. "Hindi ko alam kung bakit magaan ang pakiramdam ko pag gumagawa ako nito (rosary). Maybe it keeps me busy o dahil magiging daan ito para ang iba ay makapagdasal (I don't know why making rosaries makes me feel better. Maybe it keeps me busy or because this will help more people pray)," he added. The young man, who witnessed his father's murder when he was 16, is now one of the Foundation's Alternative Learning System students.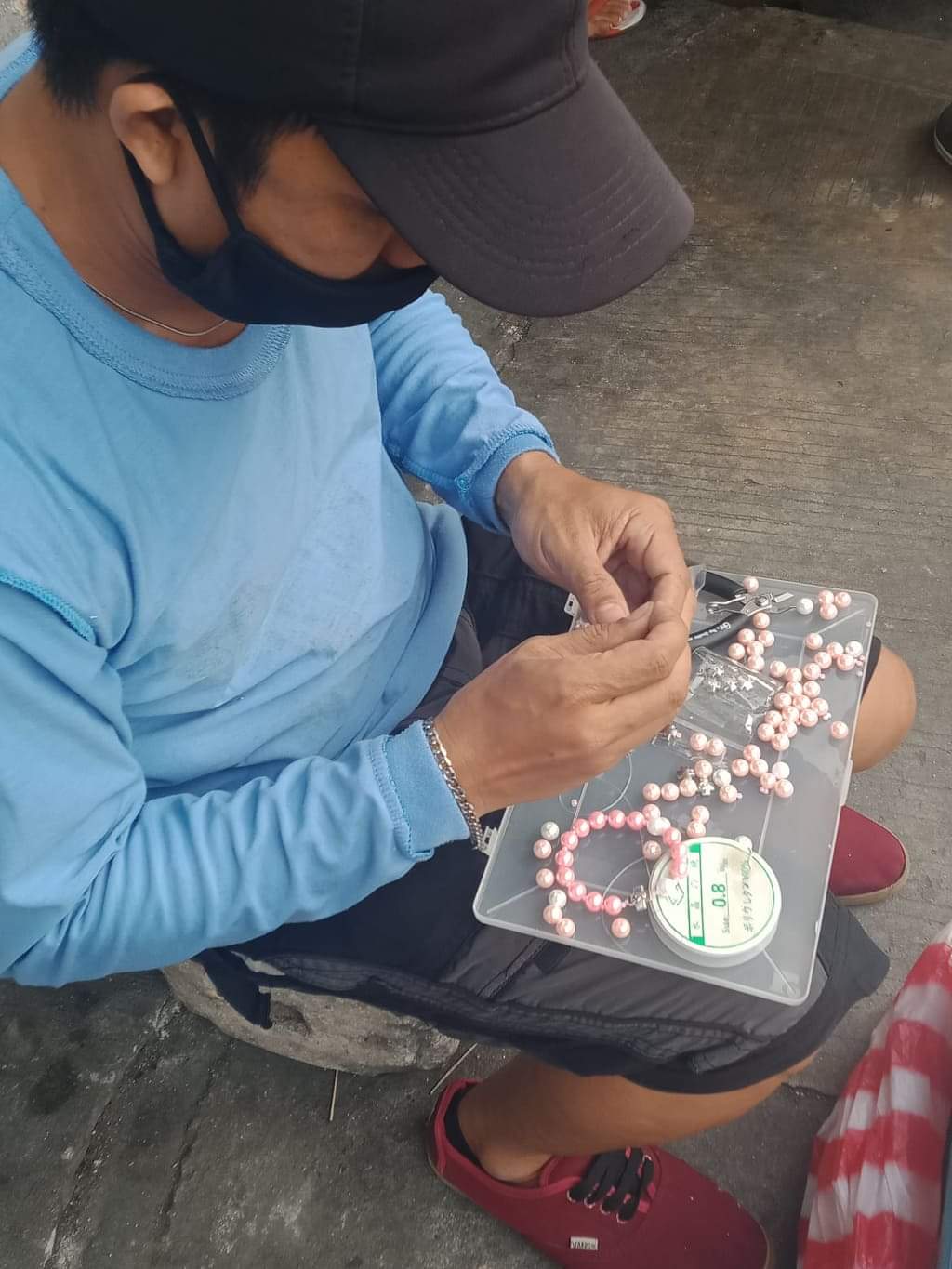 Dubbed "Project Maria" by AJFKI's founder, Fr. Flavie Villanueva, SVD, was inspired by the message of Our Lady of Banneux or the Virgin of the Poor, who appeared in Belgium to Mariette Beco in 1933. The Virgin's message to the 12-year old girl was simple yet powerful: "I come to relieve suffering." Even today, this is a sweet promise to the hopeless and homeless who believe in her. The Virgin of the Poor, so honored by the rosary, reminds the homeless that they too have a loving mother to cling on to, especially in times of trouble and suffering. 
Getting to know Jesus through the rosary
The rosary is ultimately our Lady's way of introducing her Son to us. As a saying goes "It's impossible to know someone if you do not spend time with them." "Parang napapalapit ako sa buhay at pinagdaanan ni Jesus, (It's as if I'm drawing closer to the life and experiences of Jesus [when I pray the rosary]," shared Luisito Alipio, a former drug dependent who has 18 children with multiple partners. He sees that the deeper the relationship becomes, the more he wants to spend time with God. In Filipino Luisito asked me, "If God calls me a friend, how can I refuse to talk to and to be with Him?"
You know what, I was the one who cleaned up my father's blood…
Since the Foundation gives a commission to beneficiaries who help make rosaries under Project Maria, Luisito, also known as Louie, has been able to add to his daily capital to buy small washcloths and coffee he hawks on the streets. He has since graduated from high school through the Foundation's ALS program. Louie now rents a small house with his family in Caloocan and is able to send his kids to school.  
Extra income + ineffable joy
When you see Yolanda Gutierrez, you know that she has definitely seen good times. An accountancy graduate from one of the most competitive state universities in Metro Manila, she was once a credit investigator of Land Bank. Falling into meth addiction, she lost her job at the bank.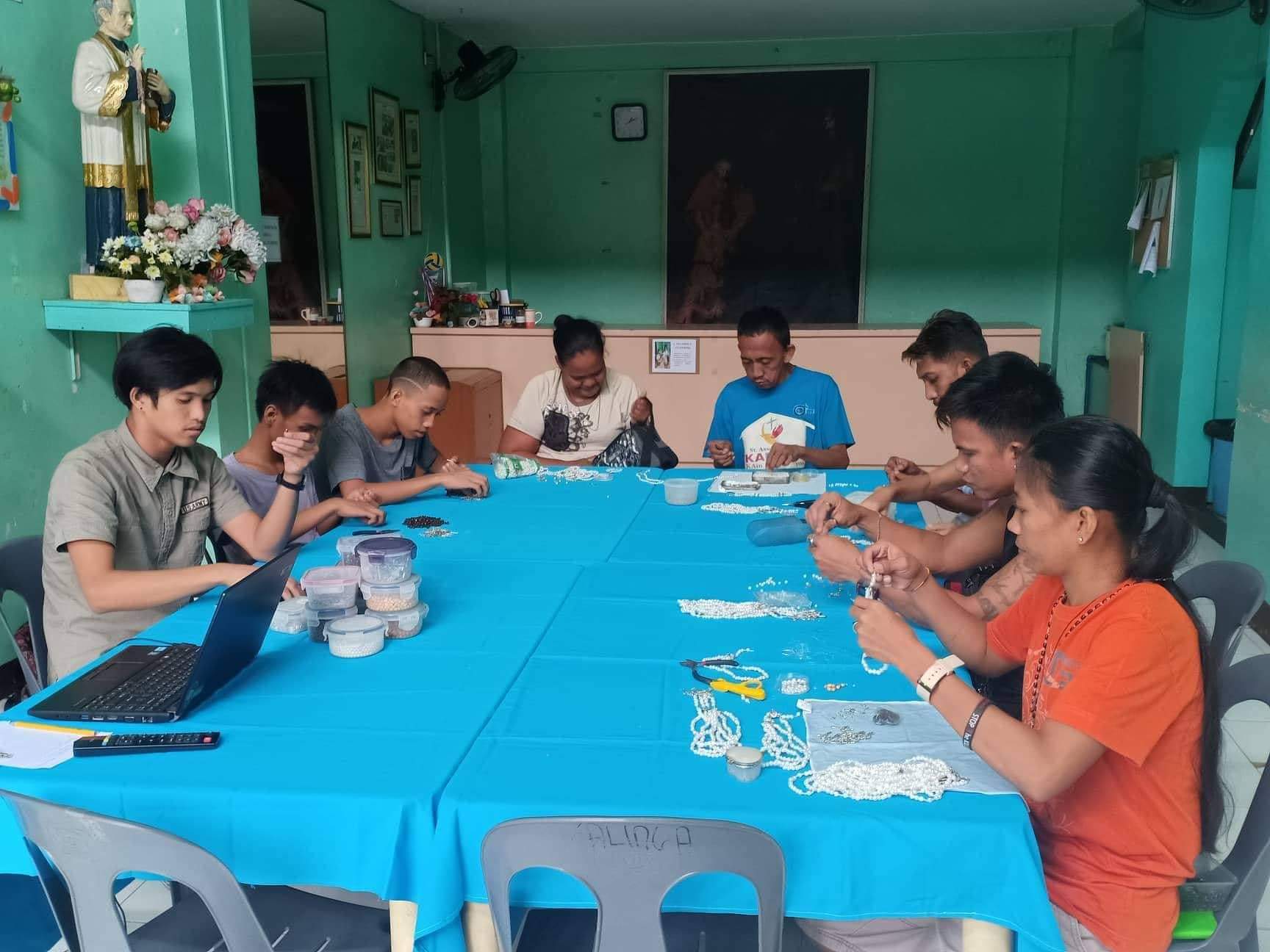 Yolanda eventually found the Foundation and finds joy in making rosaries, calling it a "wonderful gift." "I am happy doing it, aside from having an extra income, the joy of doing it is ineffable. [The rosaries are] made with love and sacrifice, so others can pray," she added. Today, through our Lady's intercession, Yolanda has been shabu-free for the past four years and works as a tricycle driver. She rents a small room with her three children. 
Truly, the rosary bridges heaven's graces to earth. Our stories are proof!