By Vinz Narisma
"I felt uneasy; my heart throbbed faster. Parts of my body were shaking uncontrollably yet I couldn't move. I could no longer utter words consciously in front of my brothers. Tears fell from my eyes because now, I understand myself…"
– Christian, on his reaction on the genogram session
To fully understand a man, you need to go back to his origins. 
This is exactly what the formerly homeless residents of AJ Bahay Kalinga (BK) residents set out to do during the genogram session for its third month of values formation from August 4 – 7. 
Given recurrently to every batch of homeless that comes to BK, the session is divided into two parts: the input part, which explains the etymology, processes, importance and impact of the genogram on the individual and second, the processing, where residents recall, reflect, and create a genogram or family tree (detailing qualities and circumstances of their family members for at least 3 generations). The residents then share it with the group.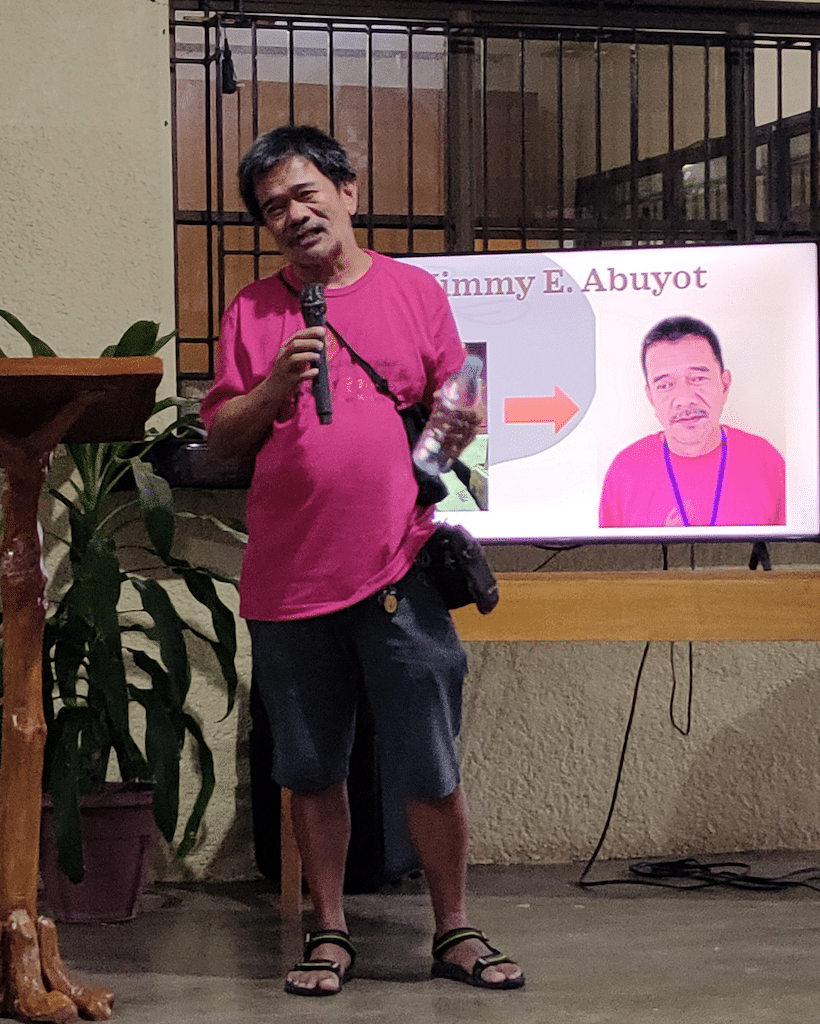 The tears of the 'happy camper'
Far from being the usual "bilog or kumustahan," John Rey, one of the residents silenced the entire hall while he shared his genogram. Everyone felt the intense emotions involved as his usual "happy camper" personality suddenly turned somber, and everyone started sharing his heartache. 
He finally saw the reason behind the many traumatic events he suffered at the hands of his family who had once almost drowned him in a drum of water; threatened to throw him off the second floor of their house; forced him to play basketball; and man up despite his effeminacy. John Rey shared how everything now made sense.
"Why couldn't they accept who I am? But because of what they did and through this session, now I understand why papa insisted that I become a man. It's because the world is harsh and brutal to those who don't act like other men," he explained.  
Questions answered
During the session, the Vinz Narisma, BK resident formator, also explained how the genogram is a graphic representation of a family tree that displays detailed data on relationships among individuals. More than your usual family tree, it allows individuals to analyze hereditary patterns and psychological factors that create relationship dynamics. BK residents also learned that the process might be painful but could help heal the wounds neglected for years or even decades. For many of the residents, the session explained years of family members' mysterious yet persistent behavior.
"For many decades, I didn't understand my father's actuations towards me, his being irresponsible and his rejection of me. When I recall all these things, it gives me heartache. I felt pity for my inner child self," shared Jun, another BK resident. But it was through the genogram that he also learned to accept his father.  
He added: "But when I internalized the importance of genogram, I also felt pity towards my father who was brutish and ruthless to me. Studying our family's origins helped me a lot to accept and understand my being and heal my wounds."
'Painful but helpful'
After the talk, the residents made their own genogram and reflected on the good qualities, unhealthy patterns, defects, and vices of their respective family members.
I also felt pity towards my father who was brutish and ruthless to me. Studying our family's origins helped me a lot to accept and understand my being and heal my wounds.
A crucial part of formation in BK, the genogram session also opens the minds of BK residents to develop a broader perspective on their childhood experiences. Through it, they are also able to see their parents' positive and negative characteristics in a new light by understanding their origins, behavioral patterns, and vices starting from their grandparents up to their generation and even to their children, the 4th generation. 
Sharing family history is never easy. Our former homeless people could hardly guess that their own family stories and history could be a source of hope and understanding to themselves and to others. The more they unfold their family history and stories the more about their own lives is understood. Ultimately, being vulnerable and honest might be painful but helpful.