By: Ludy Duran
"Salamat po at nakasama ako dito; masaya po ako at may bagong nakilala." (Thank you for including me; I am happy and have met new friends).
These sentiments may seem so simple, but coming from a child who had lost a parent in a case of extra- judicial killing (EJK), it is practically miraculous.
Nature + laughter
Nineteen younger children, aged 5–12, explored La Mesa Ecopark in Quezon City on March 26.
They were able to connect with nature and forge new friendships.
It was a day of relaxation, games, fun, and food.
Taking selfies and sharing jokes, they felt like children again—needing protection, love, and care.
Initially, some of the EJK orphans were shy and hesitant to participate in the prepared games, but gradually, they became more at ease.
Many expressed their gratitude for having been able to spend the day together.
Program Paghilom also organized an activity on April 22 – 23 for the older orphans, aged 13–20, at Mt. Purro Nature Reserve Park in Antipolo, Rizal.
Willing to take more physical risks, thirteen teens hiked up a mountain, did a river walk, shared their thoughts, and swam to their hearts' content!
'Stay with us, O Lord'
Reserved and quiet at first, the orphans grew more comfortable with one another.
The founder-priest of Program Paghilom, Fr. Flavie Villanueva, led a poignant celebration of the Holy Eucharist, which served as a highlight of the outing. In his closing message, he encouraged the orphans to always seek God's presence.
Fr. Villanueva reminded them to take on the posture of the hearts of the apostles on the road to Emmaus that cried out: "Stay with us, O Lord."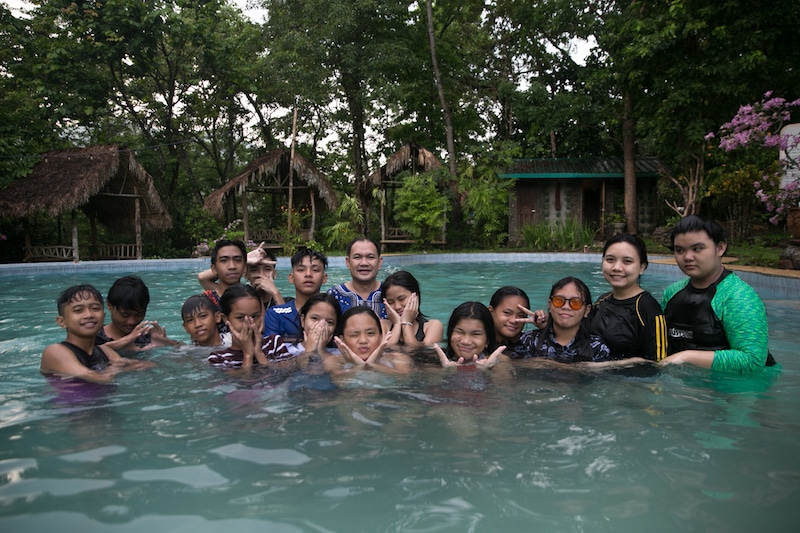 After the Holy Mass, everyone enjoyed dinner and a bonfire.
The crackling fire served as a backdrop for toasting hotdogs and marshmallows, symbolizing the warmth of friendship.
The evening was filled with fellowship, stories, and the creation of lasting memories, reaffirming their sense of belonging to a caring community.
Some were moved to tears as they shared their prayers, thanking the Lord for the love and connection they felt.
The orphans were asked to reflect on what was meaningful and what they were grateful for.
Many expressed gratitude for the safe journey, the opportunity to participate in various activities, attending the Mass, and meeting Fr. Flavie.
To end, they shared a group hug, which stirred in them their longing for parental love.
Some were moved to tears as they shared their prayers, thanking the Lord for the love and connection they felt.
'May pumalit'
The second day kicked off with an early morning forest hike.
The guide described the challenging trekking alternatives available. Undeterred, the orphans courageously chose the most difficult trail.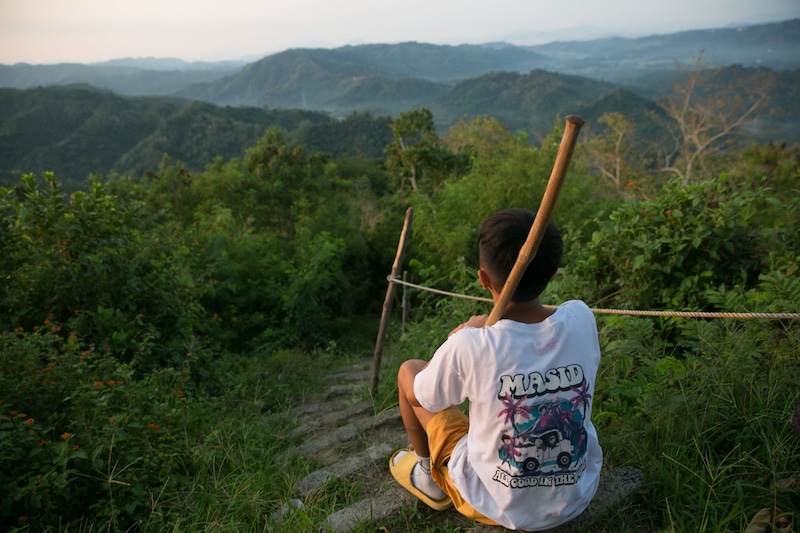 The children, accompanied by some staff members, reached the summit after almost an hour.
Before lunch, everyone gathered to reflect on and share their experiences from the two-day excursion.
Laughter filled the air as they reminisced about their most memorable moments.
One of the orphans poignantly said, "May nawala pero may pumalit" (We may have lost something, but we gained something else.)
This sentiment captures the essence of their journey, as they discovered new experiences, forged meaningful connections, and developed resilience in the face of adversity.