By Nirva Delacruz
"To improve is to change; to be perfect is to change often."
– Winston Churchill
A cross between a stern librarian and your reliable elder sister.
This is the initial impression some tend to have of Carmela Estacio or "Ate Baby" as many in the AJ Kalinga team affectionately call her.
Reserved and always thinking of others, the finance officer of the Foundation is a hard worker with a strong sense of duty.
To those who don't know her, she can seem almost Sphinx-like.
Her deadpan expression could mean anything from resignation to brewing consternation.
Also the longest serving staff of the Foundation, Carmela has literally seen the AJ Kalinga Center rise from "a big idea" to what it is today: one of the largest feeding centers for the homeless in downtown Manila, catering to an average of 250 street dwellers four times a week.
To understand Carmela, I realize it was necessary to know a bit about the other "versions" of her that have seemed to evolve alongside the Foundation itself.
The first one to allude to them is no one else but Fr. Flavie Villanueva himself, the founder of AJ Kalinga Foundation, Inc (AJKFI). "Carmela has really changed a lot… She just bloomed," he told me in an interview when asked about the history of the Foundation.
"Carmela has really changed a lot… She just bloomed," he told me in an interview when asked about the history of the Foundation.
Carmela joined as part of the original 3-man team that started it all in 2015. So many people have come and gone, but she stays on.
'Boots on the ground'
Even how Carmela eventually got involved in AJ Kalinga can only be seen as divine intervention.
A true blue Society of the Divine Word (SVD) loyalist of sorts, she first started working with the SVD's Biblical apostolate in 1997, and she has never left the SVD family since.
As a psychology graduate, it was understandable how Carmela leaned more towards the pastoral work of sharing the Gospel with others, giving talks, facilitating retreats, and creating modules.
Essentially, this is what "church work" is to many minds.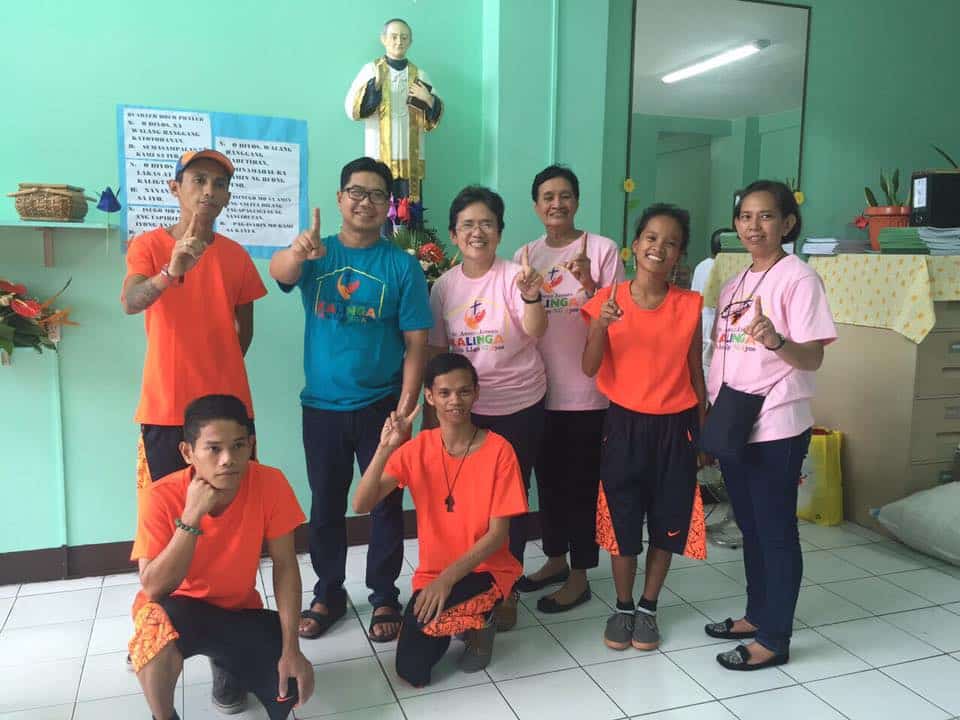 Soon, however, she found herself plucked out of her relatively "safe and predictable" job and into a mission that was so immersive nothing could've quite prepared her for it.
Following SVD's internal restructuring in 2008, Carmela was assigned to the more "boots on the ground" office that comprised the Justice, Peace, and Integrity of Creation commission, under which the future AJKFI would be born.
All the shades in between
Being part of the pioneering work of Kalinga meant that Carmela had to help with admin work, fundraising, accounting, and worrying about whether or not they could sustain feeding operations for hundreds of homeless that would sometimes reach 1,500 to 2,000 on a particularly busy Kalinga feeding day.
The logistics side was one thing, but for Carmela, another and more crucial aspect was the struggle of relating with the homeless.
As can be expected when organizing anything that relies on discipline, order, and protocol for its success, people's sensitivities will eventually get rubbed in the wrong way.
"Another challenging [part] was how to face the homeless. It was challenging because you don't know what they've been through. How do you talk to them in a way that won't be offensive?" she explained.
If there's someone who knows AJ Kalinga Center's 7 stations of profiling, bathing, grooming, coaching, etc. like her own hand, it's Carmela.
Reminiscing about the Center's early days, she is the quintessential "silent worker" volunteer who has experienced everything from being cussed at by impatient homeless, standing in the rain to hand out queue numbers ("I was too embarrassed to use an umbrella while they had none…"), to being given P500 (10USD) by a grateful street dweller on her birthday.
Carmela has seen, as they say, "the good, the bad, and the ugly" — and all the shades in between.
The grace of reinvention
What has helped Carmela reinvent herself to grow into a role that practically forced her out of her comfort zone?
The answer lies in something—or should I say—Someone, bigger than her.
"I would just bear it… It's more than a job. I got into this because this is what God has given me…This is the mission that I need to do," she shares.
Thankfully, providentially, Carmela has gone the way of Kalinga itself.
With God's grace, she'll continue to do so until there are homeless people to love.
Surprisingly or unsurprisingly, that's the secret of reinvention.